What do others think of Blazaball?

It is clear that we are enthusiastic about how the Blazaball works. But what do other people think about the use of the Blazaball? 
We have approached several people to try out the Blazaball and write an honest review. We are happy to let them speak!

Cooking with fire!

The Blazaball can be used for cooking with fire in various applications: wood, briquettes and
charcoal. The Blazaball stands its ground and passes the test in all areas. From now on 
for Cooking with Fire, the Blazaball has become "my standard tool to light the barbecue!". Look here for the full review.





Just4Koks

Just4Koks has used the Blazaball to light the BBQ briquettes and gives the Blazaball
4 stars. "Blazaball briquette starter increases the accuracy(…) If you have trouble lighting your BBQ, 
then the Blazaball is definitely worth it (…) Actually, it is strange that it
it took such a long time for something like this to hit the market. Brilliant!" Read the review of
Just4Cooks.



Photo by Just4Koks
FlameonBBQ
FlameonBBQ used the Blazaball when lighting the fireplace. "The Blazaball does exactly what it should do, quickly and easily light your fireplace. You don't need to look at how to structure your firewood.
Especially for the beginner it is a handy tool, quick and simple to use. Biggest advantage besides the convenience is the fact that the Blazaball is reusable. You can use it time and time again and thanks to the stainless steel material, a few nights in the fire pit outside doesn't do any harm." Read the full review here.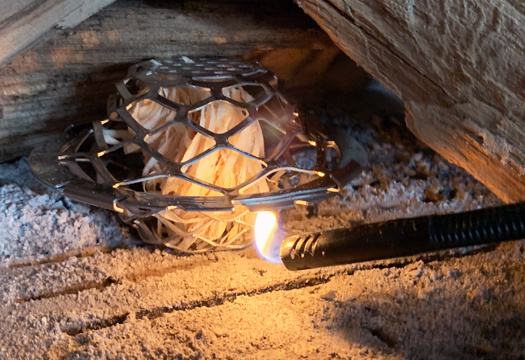 Photo of FlameonBBQ