How do you light your BBQ with a briquette starter?
Lighting a BBQ is a piece of cake for some of us, others think it's just a lot of hassle. Yet it is easier than you think, as long as you have the right material and know what the conditions are needed to start a fire. How do you light a BBQ? We are happy to tell you!
Briquettes or charcoal
The basis of your fire is, of course, the fuel. Briquettes or charcoal are often used in a BBQ. Let the BBQ specialist shop inform you about the different types of briquettes and charcoal available. The BBQ specialist can advise you on what the best fuel is for you and your BBQ. At home, make sure that you store your charcoal and briquettes in a dry place, that saves a lot of smoke during ignition.
Firelighters
The second part of a good fire is the igniter. Firelighters are the most commonly used igniters in BBQs. You can get firelighters in various shapes and sizes. We recommend a clean, natural version. This not only gives off a more pleasant smell when the barbecue ignites, but it also ensures a better end result. Nobody wants a piece of meat with a petroleum flavor on it.
Oxygen
The third component to starting a fire is oxygen. No oxygen is no fire. To get enough or even extra oxygen to your fire, there are all kinds of tools: a BBQ starter, charcoal starter, briquette starter, coal starter, they all aim to provide sufficient oxygen for a certain period of time so you can get a good fire in your briquettes and charcoal.
Briquettes starter
With a briquette starter or charcoal starter, you pour your fuel into a tube. After that you place your firelighters under the tube. The firelighters are then free and supplied with sufficient oxygen. The BBQ starter works as a kind of funnel through which oxygen is pushed. This makes your fuel ignite faster and easier.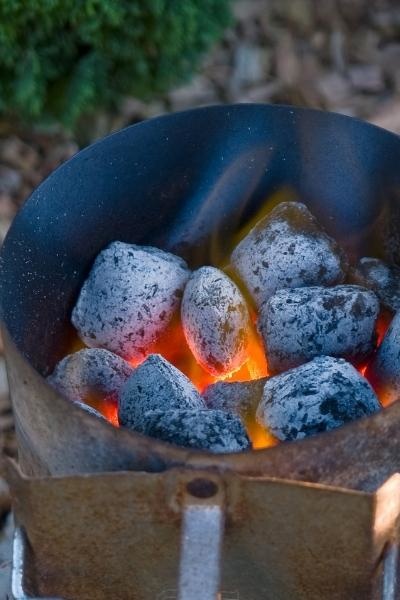 Blazaball
The disadvantage of the classic briquette starter is that it is relatively large. Another disadvantage is that once the briquettes are grey, the briquette starter has to be emptied into the BBQ. Not everyone likes the idea of ​​tipping over a tube of burning briquettes.

If you have a small BBQ that does not fit a briquette starter or if you do not want to tip over burning briquettes in your BBQ, the Blazaball is a handy tool for you. All you have to do is fill the Blazaball with some firelighters. Place the Blazaball at the bottom of your BBQ, light the firelighters and then pour the briquettes or charcoal onto the Blazaball. The firelighters are protected by the Blazaball and will therefore receive enough oxygen to ignite.
Want to know more about the Blazaball, check the rest of the website via www.blazaball-europe.com