How do you light a fire pit? 
Nice and cozy, sitting around a fire pit with friends an family. A great idea, but lighting a fire pit is not always that easy. Firelighters that go out, wood that does not ignite well, or adding a liquid fire starter to get the fire going, with a dangerous flash fire as a result. We at Blazaball believe there are easier and safer ways to light your fire pit!
Lighting fire pit with kindling
One of the difficult things about lighting a fire pit is that there is often little space at the bottom of the fire pit. This means that when you want to light your fire with a classic pyramid or Swiss way, there just in't enough room. For the classic way of building a pyramid with small and large wood, you need space for the bottom of the pyramid. This also applies to the Swiss way of lighting a fire. You need a somewhat larger surface for this, something you often do not have at the bottom of a fire pit.
Lighting fire pit with liquid fuel
Because it is difficult to get a nice fire in a fire pit, liquid fuel is often used. Just like indoors, the use of liquid fuel outdoors is very dangerous. It leads to an unpredictable fire with potentially large flares. The use of liquid fuel to light a wood fire or BBQ is therefore discouraged at all times, both indoors and outdoors!
Lighting fire pit with the Blazaball
An easy way to light the fire pit is with the Blazaball. With the Blazaball you no longer need small wood. Also, the wood does not have to be stacked in a certain way to prevent suffocation of the firelighters.
Fill the Blazaball with some firelighters and place them at the bottom of the fire pit. Light the firelighters and then place the wood on top. The firelighters are protected by the Blazaball, so that they receive sufficient oxygen at all times. Because the firelighters are in one place, they burn even harder together, so that the use of small kindling wood is not necessary.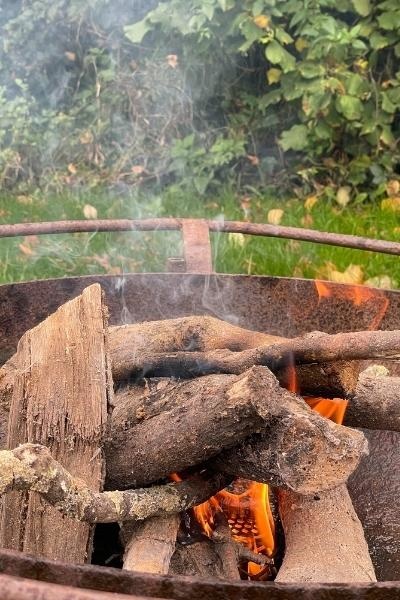 Want to know more about the Blazaball, check the rest of our website on www.blazaball-europe.com